People often refer to a film being "dumped on Netflix" as a pejorative, despite the fact the landscape of entertainment has evolved well beyond a non-theatrical release being a sign of lesser quality. The streamer has distributed some genuinely incredible films, many of which have already been deemed worthy of a physical release treatment by the Criterion Collection, including "Beasts of No Nation," "Okja," "Roma," "The Irishman," "Marriage Story," "Rolling Thunder Revue: A Bob Dylan Story by Martin Scorsese," "Dick Johnson is Dead," "The Power of the Dog," and if we're counting international distribution, "Uncut Gems."
And now, the best Netflix film of 2022 and the reigning Oscar winner for Best Animated Feature, "Guillermo del Toro's Pinocchio," is joining that elusive club.
A reborn take on Carlo Collodi's classic character of the same name, "Guillermo del Toro's Pinocchio" is a marvel of stop-motion animation and arguably the definitive adaptation of the tale. Del Toro co-directed the film with Mark Gustafson, and this iteration of "Pinocchio" sees the tale of the puppet boy and his creator/father Geppetto set against the backdrop of Fascist Italy, as Pinocchio learns about what it means to be human as Geppetto learns the true meaning of unconditional love.
With a phenomenal cast including Ewan McGregor, Cate Blanchett, Tilda Swinton, Christoph Waltz, Ron Perlman, Finn Wolfhard, John Turturro, Tim Black Nelson, Tom Kenny, Gregory Man, and David Bradley, "Guillermo del Toro's Pinocchio" is, as /Film writer Sandy Schaefer described it when we named it one of the best films of 2022, "a passionate ode to the value of imperfection, as well as a poignant fable about humanity and the ways in which our mortality is the very thing that gives real purpose to our lives."
Why this is a big deal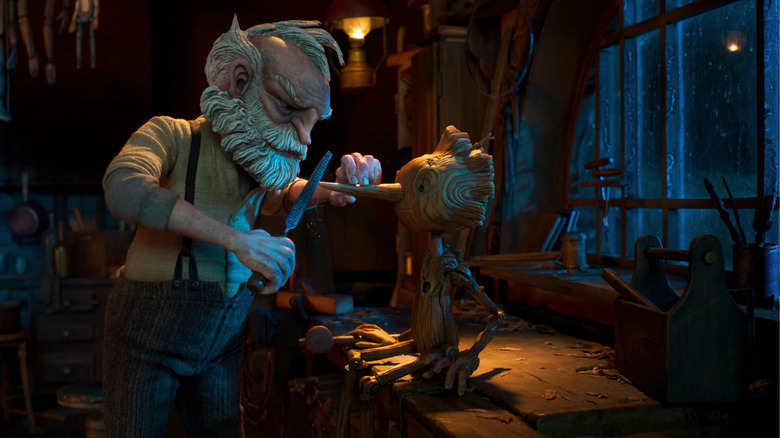 Netflix
Despite what feels like a cultural stranglehold of institutions like the House of Mouse, cinematic animation is often looked down upon by the general public as something "only kids enjoy," and treated as if animated films are not on equal artistic footing with live-action cinema because of that preconceived notion. Guillermo del Toro has been one of the most vocal advocates trying to challenge this line of thinking, discussing the merit of animation in just about every awards acceptance speech he made for "Pinocchio."
The film is only the eighth animated film added to The Criterion Collection (ninth if you count "Akira," which was only released on LaserDisc), a prestigious honor that doubles as a frustrating reminder that even the gold standard of film preservation and celebration has also overlooked this medium.
It's also a huge win for Netflix, a company that is often viewed as cartoonishly villainous. Lest we forget, Netflix saved this film from development hell and helped bring to life a version of the "Pinocchio" story that outdid Disney. Some folks also get upset when Criterion releases Netflix-distributed films, believing that it "cheapens" the brand, but the majority of Netflix films never receive a physical release. And as the dual WGA and SAG-AFTRA strikes continue to disrupt the status quo of Hollywood following the failure of the AMPTP to negotiate a fair deal, the future of Netflix is not promised. Giving "Pinocchio" a physical release through Criterion guarantees that the film is not at risk of being lost to time or technology.
The special features of Pinocchio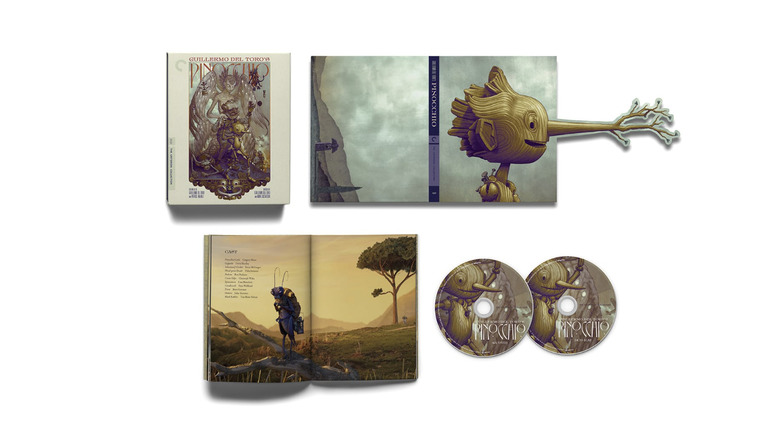 Criterion
As is the case with all Criterion releases, "Guillermo del Toro's Pinocchio" boasts some pretty impressive director-approved special edition features. All of the goods featured in the release are as follows:
4K digital master, supervised by directors Guillermo del Toro and Mark Gustafson, with Dolby Atmos

One 4K UHD disc of the film presented in Dolby Vision HDR and one Blu-ray with the film and special features

Handcarved Cinema, a new documentary featuring del Toro, Gustafson, and cast and crew, including the film's puppet creators, production designers, and animation supervisor

Directing Stop-Motion, a new program featuring del Toro and Gustafson

New conversation between del Toro and film critic Farran Smith Nehme

New interview with curator Ron Magliozzi on The Museum of Modern Art's 2022 exhibition devoted to the film

New program on the eight rules of animation that informed the film's production

Panel discussion featuring del Toro, Gustafson, production designer Guy Davis, composer Alexandre Desplat, and sound designer Scott Martin Gershin, moderated by filmmaker James Cameron

Conversation among del Toro, Gustafson, and author Neil Gaiman

English subtitles for the deaf and hard of hearing and English descriptive audio

PLUS: Essays by film critic Matt Zoller Seitz and author Cornelia Funke
The film is Criterion spine #1201 and is currently available for pre-order.
Source From: www.slashfilm.com
Source link