"Good Burger" is a rather unlikely success story of '90s kids' entertainment. Back in the '90s, Nickelodeon created a sketch comedy show titled "All That," which was essentially the kids' version of "Saturday Night Live." It ran absurd sketches and launched the careers of many actors like Amanda Bynes, Nick Cannon, Katrina Johnson, Jack DeSena, Kel Mitchell, and Kenan Thompson — who would go on to become the longest-reigning "SNL" cast member ever. 
And just like "SNL," "All That" would see some sketches turn into spin-offs, with the biggest one being "Good Burger." In the sketches, Kenan and Kel starred as Dexter and Ed, two fast food joint workers who get into all sorts of hijinks. The movie was directed by Brian Robbins, who would go on to become president and CEO of Paramount Pictures.
In the years since the first "Good Burger," Thompson and Mitchell have teased a sequel numerous times, and reunited for "Good Burger" sketches in 2015 on "The Tonight Show" and again in 2022 when Thompson hosted the Emmys.
Now, 26 years after the release of the original, Thompson and Mitchell are reuniting for an actual "Good Burger 2." We don't know that much about the movie just yet, but there is enough information to whet our appetites. So, let's run down everything we know about "Good Burger 2," and remember, we're all dudes.
When does Good Burger 2 premiere?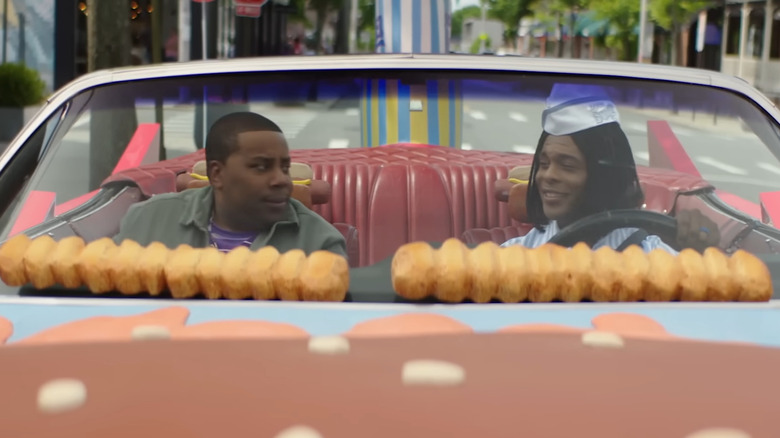 Paramount+
Paramout+ has officially announced the release date for the highly anticipated "Good Burger 2." After 26 years, fans can take out their aprons and learn to make Ed's secret sauce, because the film is coming out on November 22, 2023. Sadly, those hoping for a theatrical release may be disappointed to learn that Paramount is seemingly sending the film straight to streaming on Paramount+, but you can always gather all your closest friends, order some burgers and enjoy the ride.
Who is in the cast of Good Burger 2?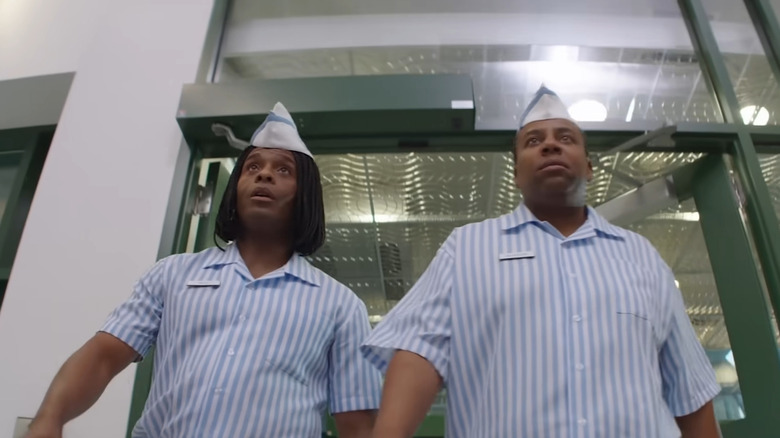 Paramount+
Of course, it would not be "Good Burger 2" without Ed and Dexter, and thankfully Kenan Thompson and Kel Mitchell are returning to play the characters they originated over a quarter of a century ago. They will not be alone, however, as the duo is joined by Kamaia Fairburn, Alex R. Hibbert, Fabrizio Guido, Elizabeth Hinkler, Emily Hinkler, Anabel Graetz, and returning "All That" cast members Josh Server and Lori Beth Denberg. Carmen Electra will also reprise her role as Roxanne from the first film.
There's also Jillian Bell, who will play Katt Boswell the CEO of MegaCorp which owns the fast food chain Mega Burger. They seem to be the new Mondo Burger from the first film, the big franchise threatening the little burger joint. Also, Lil Rel Howery is joining the cast as Cecil McNevin, a lawyer for the major corporation.
Who is the director of Good Burger 2?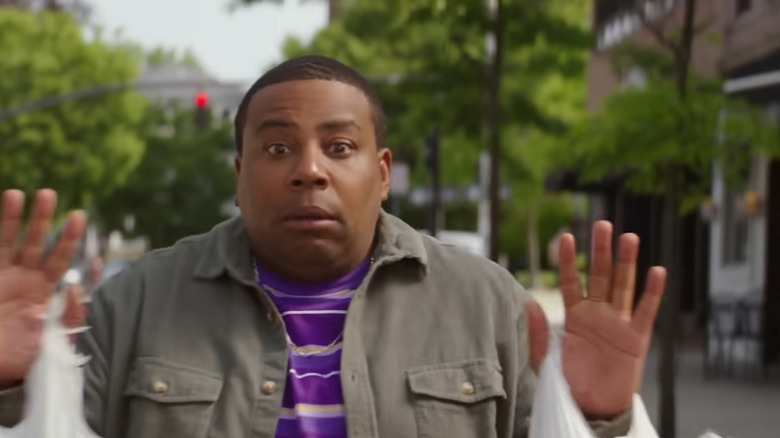 Paramount+
"Good Burger 2" is directed by Phil Traill, who is best known for directing episodes of "The Middle," "Fresh Off the Boat," and "Single Drunk Female." Traill has made a career out of playing in absurd comedy worlds with big ensembles, so he should fit right in with the Good Burger crew.
Who are the writers and producers of Good Burger 2?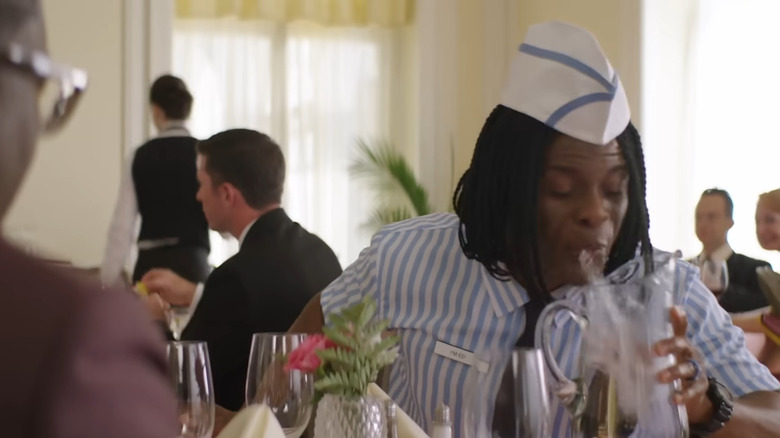 Paramount+
In addition to starring in "Good Burger 2," Mitchell and Thompson are also co-producing the sequel. Additionally, Kevin Kopelow and Heath Seifert, who co-wrote the original film and worked on "All That," serve as writers and executive producers on "Good Burger 2" while James III also wrote for the film.
Has Good Burger 2 released a trailer?
If you're looking for a trailer, we've got good news! Paramount released a teaser for "Good Burger 2," which doesn't show much about the plot but mostly serves to remind us of how fun it is to watch these characters interact and get into hijinks — like a gag in the trailer where Ed and Dexter are at a restaurant and, thinking the waiter asked them if the water pitcher contained water, Ed chugs it down, spits it back out and confirms it is indeed water. Here's the official synopsis:
"Dexter Reed is down on his luck after another one of his inventions fails. Ed welcomes Dex back to Good Burger with open arms and gives him his old job back. With a new crew working at Good Burger, Dex devises a plan to get back on his feet but unfortunately puts the fate of Good Burger at risk once again."
Except that synopsis fails to mention the important detail that Ed is actually the owner of Good Burger now, as revealed by Kel Mitchell in an interview with Al Roker. How Ed managed to own a whole restaurant remains to be seen, but it is likely to be very funny.
Source From: www.slashfilm.com
Source link